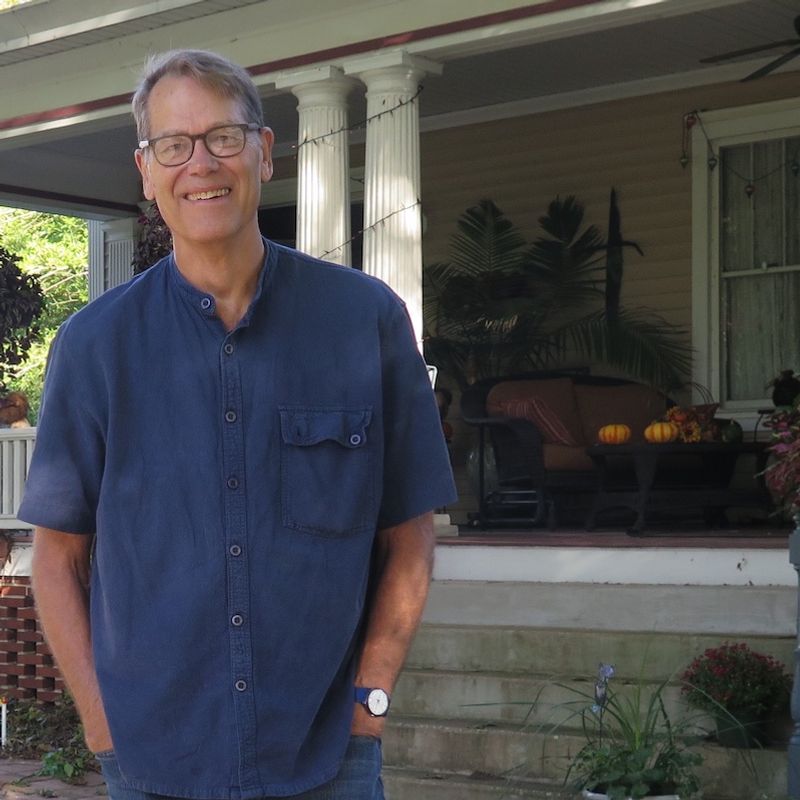 Biography
A few notes from a long history of music making
The one-liner: 
 A literate and engaging song artist with echos of Greg Brown, Lyle Lovett, Bruce Coburn and Daryl Scott. 
The short version::
Christopher Mark Jones  sings soulful country and blues-inflected Americana narratives  in  "a rich voice that's slightly rough around the edges" (Scott Mervis, Pittsburgh Post-Gazette), but still grabs the listener along with his "fascinating lyrics" (Melody Maker, UK) and the "intricate guitar-playing" and "wide-ranging textures and exquisite instrumentation" (Larry Berger, Saturday Light Brigade) of his recordings. Listeners hear echoes of "Greg Brown's pacing and a Lyle Lovett attitude" (Ben Shannon), as well as of John Prine, Bruce Coburn and Darrell Scott. 
Between careers as a basketball player and French professor, Jones busked in Paris, toured the UK, Denmark, and Holland, and played New England clubs. He now tours and streams solo from Pittsburgh, PA, and plays regionally in formats varying from solo to full band. Looking for the Light (2021) is his sixth recording of original folk/roots songs. 
A longer version: 
The songwriter saga started in Paris in 1976, when Christopher found that all he wanted to do was sing and play guitar. He had spent a half-dozen years playing professional basketball (in Portugal) and studying languages (Portuguese, French, Spanish) and was enrolled at the National Institute for Oriental Languages and Civilizations in Paris at the time where he was studying Chinese. He finished that degree, while playing in restaurants and the Metro, then headed to London to do music full-time. He played a showcase at the Cambridge Folk Festival, where Rosie Hardman heard him and recommended him to Bill Leader, a legendary producer (Bert Jansch, John Renbourne, Nic Jones), who had a deal with Transatlantic Records to issue records under his imprint. The album they did together, with contributions from traveling partner Mick Linnard, Christopher's brother Jeff, Gerald Moore, (a popular club guitarist in London) and Pick Withers on drums (Dire Straits) was licensed in five countries in Europe, distributed by Rounder, and getting good reviews, but it came out at the same time that punk hit in London, and the reception for acoustic songwriters was at an all-time low in the UK. 
Moving back to Boston in 1979, he put together a band called Christopher Jones & The Regulars, which worked consistently for several years with excellent musicians --Andre Locke (Mandrill), Reeves Gabrels (David Bowie's Tin Machine, The Cure), Reed Butler(Chris Smither) and Sheldon Mirowitz (Livingston Taylor & Patty Larkin), among others. 
After moving to Pittsburgh to teach French Studies at Carnegie Mellon, he returned to acoustic music through swing and blues, recorded a catch-up album, Heartland Variations (2010), and re-mastered the Transatlantic (UK) album No More Range to Roam. Four additional recordings of new songs have since followed, including Suburban 2-Step (2012), Atlantica (2014),  Incantations (2017) and Looking for the Light (2021).  Listeners have mentioned echoes of John Prine, Greg Brown, Lyle Lovett, Bruce Coburn and Darrell Scott in Christopher's songs. Collaborations with  some of the best musicians in Pittsburgh have continued, both for live shows and recording, including Jim Spears and Mark Perna on bass, Skip Sanders on keyboards, guitarists Vince Camut, Bryce Rabideau and Steve Delach, and drummers Mark Weakland, Eric Kurtzrock, Ryan Socrates, Eric George, Jeff Berman and Joey Waslousky.